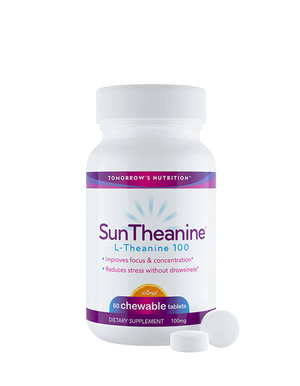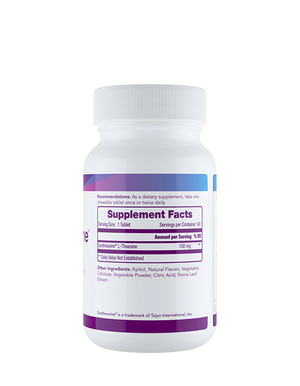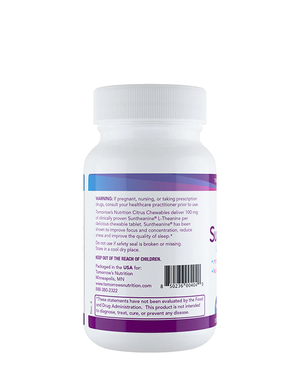 SunTheanine Chewables
Delivering 100 mg of L-theanine per easy to chew tablet, Suntheanine Chewables have been clinically shown to reduce stress while improving calm, focus and concentration, all without diminishing daytime alertness.* Suntheanine has also been shown to improve the quality of sleep at night, without the morning grogginess associated with other sleep aids.* Suntheanine is produced via a patented process that delivers pure L-theanine for maximum effectiveness.*

Delightful!
Review by Rachael T. on 15 Aug 2022
These chewables not only provide the calm that I needed but they taste really good! I'm so glad I took a chance, You will not be disappointed!
Really works!
Review by Charlene S. on 17 Oct 2021
I have tried this product and find that it supports my energy as I don't have to drink caffeinated drinks throughout the day. Helps me sleep better at night and helps with my stress.
What I call my sunny supplement
Review by Angela T. on 14 May 2021
I really like this chewable version.
Taking ltheanine everyday seems to help boost my energy and mood. Nothing dramatic, but certainly don't feel dragging my menopausal body around.
I eat healthy, exercise minimum 3x/week, but since menopause, I'm feeling extra tired and "weighed down" , even moody blues.
BEST L THEANINE!!!
Review by Gabriel F. on 24 Jan 2021
I love the mental calm of L theanine without drowsiness and the well-being in general!
They taste great and have
Review by Kathryn G. on 16 Sep 2020
They taste great and have the desired effect on me. I recommended them to my daughter who has a son with ADD. He has just recently started back to school and the teacher had mentioned that my grandson was being distracted and twirling he pencil etc. My daughter told the teacher that he was going to be starting to take a new supplement that was supposed to help calm him down, and would be appreciate any feedback if the teacher noticed a change in his behaviors. Within the week the teacher commented that he was doing better!!
*These statements have not been evaluated by the Food and Drug Administration. This product is not intended to diagnose, treat, cure or prevent any disease.
Are you a Healthcare Professional?
Feel the Difference
Not sure what product to use? Ask questions, compare benefits and find answers.