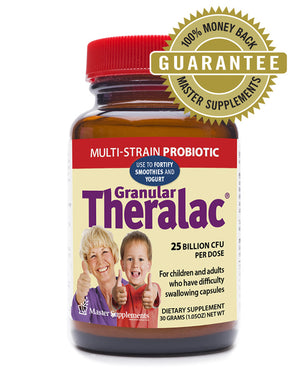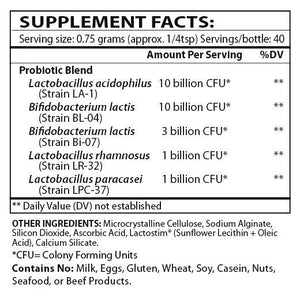 Granular Theralac
A potent blend of beneficial bacteria without a capsule.
Our probiotic powder, Granular Theralac, contains 5 strains of good bacteria selected for their resistance to stomach acid, ability to colonize, and superior scientific references. Each 1/4 teaspoon serving is packed with 25 billion live organisms from 5 probiotic strains of human origin. When taken regularly, probiotics reinforce a healthy microbiome which supports regularity, digestive comfort, and immune health. Additional protection from stomach acid and prebiotic nutrition - to stimulate probiotic growth in your digestive tract - included in every spoonful. Stir this probiotic powder into chilled food or blend with smoothie!
Reviews
Ingredients
Dosing
FAQ
Lactobacillus :
Lactobacillus acidophilus
10 billion CFU (Strain LA-1)
Lactobacillus paracasei
1 billion CFU (Strain LPC-37)
Lactobacillus rhamnosus
1 billion CFU (Strain LR-32)
Bifidobacteria:
Bifidobacterium lactis
10 billion CFU (Strain BL-04)
Bifidobacterium lactis
3 billion CFU (Strain Bi-07)
Total Bacteria:
25 billion CFU probiotic organisms
Other Ingredients
Microcrystalline Cellulose – A food-grade, plant cellulose to standardize probiotic strength.
Sodium Alginate – Provides protection from stomach acid and is a probiotic preferred source of prebiotic fiber (Protected by 2 US Patents).
Silicon Dioxide – Reduces moisture and improves shelf life. Silicon dioxide is a micronutrient in human nutrition; a food grade source is used in Granular Theralac®.
Calcium Silicate – Anti-caking agent.
Ascorbic Acid – Antioxidant.
LactoStim® (Sunflower Lecithin and Oleic Acid) – This patented prebiotic. LactoStim® stimulates probiotic growth by rehydrating the probiotic bacteria once they're delivered to the digestive tract. The prebiotic effect comes from Lactostim enhancing the bacteria's membrane permeability to enable the rapid rehyration of our probiotics. The sooner they rehydrate, the sooner they can begin replenishing your microbiome. Only food grade Lecithin and Oleic Acid are used in Granular Theralac® (Protected by 5 US Patents).
Not manufactured with wheat, gluten, soy, milk, egg, fish, shellfish or tree nut ingredients.
Consult your health care practitioner if pregnant, nursing, or taking other nutritional supplements or medications. Keep out of reach of children.
Standard
Take 1/4 teaspoon daily.
Intensive
Take 1/2 teaspoon daily for 15 days.
Each bottle of Granular Theralac contains 40 individual 1/4 teaspoon servings. Mix the probiotic powder into cold food or drink.
What is the Best Way to Take Probiotic Powder?
Stir Granular Theralac into soft foods like applesauce or yogurt or add 1/4 tsp. to your next smoothie!
Our arrive alive technology prevents this probiotic powder from dissolving in water so we do not recommend adding it to liquids direcetly.
Can I take probiotics with antibiotics?
Yes, you can absolutely take probiotics with antibiotics!
When should I give probiotics with antibiotics?
While you can take antibiotics and probiotics at the same time, we recommend separating your probiotic supplement from your antibiotic by two hours.
This separation will reduce the number of beneficial bacteria in your probiotic being killed by the antibiotic in your digestive tract.
How long should I take probiotics after antibiotics?
We recommend continuing to take a probiotic for approximately two weeks after your antibiotic regimen has completed. We recommend Theralac because our blend of Lactobacillus and Bifidobacteria probiotic bacteria will colonize your entire digestive tract.
You can continue to support the growth of beneficial bacteria after antibiotics by eating a diet rich in high-fiber foods like fruits and vegetables.
Why should I take a probiotic after antibiotics?
You take a probiotic after antibiotics because an antibiotic will kill both the good and bad bacteria throughout your digestive tract. Beneficial microbes like probiotic bacteria support the healthy structure and function of your digestive tract and help your body digest food and absorb nutrients. Introducing a probiotic either during or after an antibiotic regimen will support microbial balance.
How is My Order Shipped?
We provide same day shipping for all orders placed before 3:00 P.M. Central Time. We ship using USPS Priority Mail so your order will arrive as quickly as possible. Typically, shipments arrive within 2 - 3 days.
During the holiday season, postal carriers see a massive increase in volume which may lead to delays.
We provide tracking information for all accounts that have an associated email address so you can keep tabs on when your supplements are scheduled to arrive. If you do not see this email, check your spam folder.
If you wish to have your order shipped via UPS or have another special request, such as C.O.D., please call Customer Service to place your order. We're happy to ship internationally however additional shipping charges may apply.

What is Totally Inert Packaging?
Totally Inert Packaging (TIP) is our multi-step approach to ensuring guaranteed potency through expiration for all of our probiotic supplements.
We take these steps because it's important to minimize exposure. Because probiotic bacteria are living organisms, they have the same requirements for life as you or I -- without oxygen and water, probiotics cannot grow.
Most probiotic bacteria have been freeze dried during production to keep them in metabolic stasis. As we introduce moisture and oxygen, the once dehydrated probiotic bacteria wake up and begin reproducing or colonizing.
You want the probiotic bacteria to grow and colonize in your gut, not on the shelf.
Therefore, preventing the ingress of moisture and oxygen during storage is essential to ensure that your supplements remain potent through their expiration date.
Packaging Probiotics:
After encapsulation, we pour our probiotic capsules into a glass bottle. We specifically use brown glass bottles for two reasons:
They block UV light
They allow less external moisture contamination
Probiotic bacteria are as sensitive to UV radiation as you or I and amber glass bottles block more UV light than clear, green, or blue glass bottles. Additionally, glass bottles have a lower moisture-vapor transmission rate. What this means is that water can more readily pass through a plastic packaging barrier and increase the relative humidity inside a plastic bottle.
Next, we add moisture and oxygen dessicant packets followed up by a pure nitrogen flush of the inside of each bottle.
These packets absorb whatever leftover excess oxygen and moisture remaining inside the product after we flush the bottles with pure N2. By minimizing the oxygen and moisture content, we can guarantee that the probiotics within will remain inert until you're ready to start taking them!
Lastly, we apply a double seal complete with another set of moisture and oxygen barriers to finish our TIP process.
By limiting their exposure, we can guarantee that our supplements will remain stable and potent through expiration.
Are you a Healthcare Professional?
Feel the Difference
Not sure what product to use? Ask questions, compare benefits and find answers.