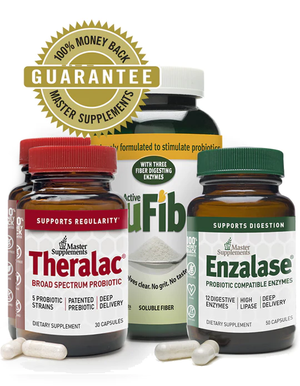 Complete G.I. Program
Save 15% everyday on these products when purchasing them together in this bundle!
The complete 45 Day program features two bottles of Theralac®, Enzalase®, and TruFiber®   

For complete digestive support, we recommend the use of a probiotic in addition to a high-quality enzyme and fiber supplement. Enzalase aids digestion and helps break down food while TruFiber promotes bifidobacterium colonization. Both products work synergistically with our flagship probiotic, Theralac, a balanced probiotic formula that provides complete G.I. coverage, to support gut health. This 45-Day program is great for anyone who has taken antibiotics or experienced digestive issues.
Reviews
Ingredients
Dosing
FAQ
Dosing Instructions
Theralac
2 capsules daily for 15 days
followed by
1 capsule daily for 30 days
Enzalase
1 capsule daily for 45 days
TruFiber
1 serving daily for 45 days
Best Practices
To ensure maximum benefits from this program, we recommend a whole food diet that is low in sugar and artificial ingredients.
For more significant digestive issues, increase the dose to TWO capsules a day of Theralac and Enzalase, and two scoops of TruFiber.
The probiotics can be taken with or without food and at any time of day.
How is My Order Shipped?
We provide same day shipping for all orders placed before 3:00 P.M. Central Time. We ship using USPS Priority Mail so your order will arrive as quickly as possible. Typically, shipments arrive within 2 - 3 days.
During the holiday season, postal carriers see a massive increase in volume which may lead to delays.
We provide tracking information for all accounts that have an associated email address so you can keep tabs on when your supplements are scheduled to arrive. If you do not see this email, check your spam folder.
If you wish to have your order shipped via UPS or have another special request, such as C.O.D., please call Customer Service to place your order. We're happy to ship internationally however additional shipping charges may apply.
Are you a Healthcare Professional?
Feel the Difference
Not sure what product to use? Ask questions, compare benefits and find answers.