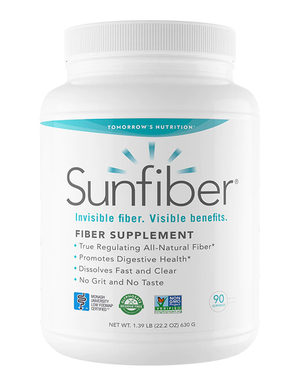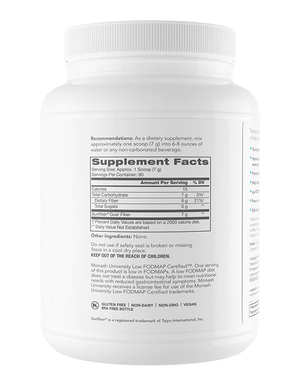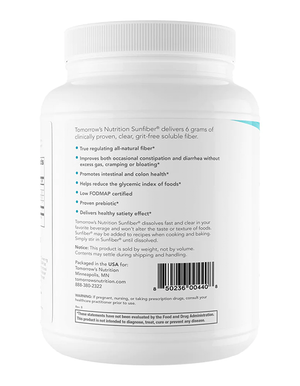 Sunfiber 90-Day
(90 servings)
Tomorrow's Nutrition Sunfiber® delivers 6 grams of clinically proven, clear, grit free soluble fiber. A true regulating fiber, improves both conditions of occasional constipation and poor elimination as well as occasional diarrhea and loose stools. The result is regularity with healthy consistency.*
Tomorrow's Nutrition Sunfiber promotes intestinal and colon health, aids in the transit of food through the intestines, promotes the absorption of essential minerals and helps control the glycemic index of foods.*
Tomorrow's Nutrition Sunfiber dissolves fast and clear in your favorite beverage and won't alter the taste or texture of foods. Sunfiber may be added to recipes when cooking and baking. Simply stir in Sunfiber until dissolved.
Sunfiber- Give it a try!
Review by stephanie c. on 30 Jan 2023
LOVE this product! I like how there is no taste or smell. It is clean, mixes well, not grainy or chalky. I have been using it for over a year now and can't imagine living without it. Give it a try, you will not be disapointed!
Worthwhile tool to have
Review by Nicole R. on 25 Jan 2023
This fiber truly was easy to add to a cup of tea and didn't alter the taste. It made my belly feel so much better, it is one of the top supplement type options I've tried. Over 5 years I've gone from not being able to eat anything after stress+antibiotics+steroids circumstances to healing back to ability to enjoy all foods.
Great
Review by Kari Z. on 20 Jan 2023
Great so far. Virtually no taste and dissolves completely. I started out slow and as I'm up to a full scoop now it seems to be helping constipation issues, which is what I was hoping for. Definitely worth continuing to use if it keeps helping consistently.
great product
Review by Brendan M. on 19 Jan 2023
great product. works well.
Gentle Fiber Supplement
Review by Ashley M. on 17 Jan 2023
I've been using sunfiber regularly for a few weeks now, and there has been a noticeable (positive) difference in my IBS symptoms. I'm glad I was able to try the samples first before buying a whole container. I know have a subscription set up bc having a gentle, regular fiber supplement has proven to be beneficial for me.
Easy to use healthy and
Review by Cynthia T. on 12 Jan 2023
Easy to use healthy and low fodmap. I love Sunfiber.
Excelente producto
Review by Natalie H. on 6 Jan 2023
Este producto no le cambia el sabor a las bebidas. Yo lo uso en el café de la mañana.
Are you a Healthcare Professional?
Feel the Difference
Not sure what product to use? Ask questions, compare benefits and find answers.