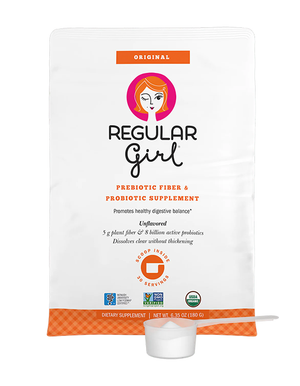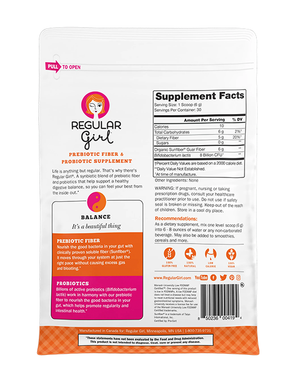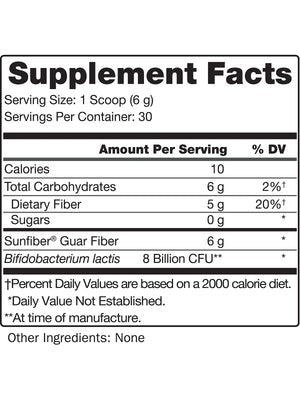 Regular Girl Original Powder
(30 servings)
Clinically proven prebiotic soluble fiber (Sunfiber) and probiotics (bifidobacterium lactis), created with the help of a woman dietitian. Regular Girl delivers true regularity, addressing both occasional constipation and diarrhea, without excess gas, cramping or bloating.*
Low FODMAP Certified, Glyphosate Residue Free Certified, Non GMO Project Verified, Organic Certified, Gluten Free, Vegetarian and Kosher.
Contains 30 servings of scoopable powder. 
"I also love the individual packets, no mess and no measuring...."
Kim B.
5.0 star rating
"I also take a second probiotic later in the day and together they control Ibs symptoms...."
Karen D.
Excellent Source of Low FODMAP Fiber, delivering 5 grams of soluble fiber per serving.
Regular Girl delivers true regularity without excess gas or bloating*
The fiber within Regular Girl has been shown to improve the growth of helpful bacteria and decrease harmful bacteria.*
Regular Girl not only helps with occasional constipation, but uniquely helps with diarrhea as well, returning stool content to a normal healthy state. Unlike other prebiotic fibers, Regular Girl will not lead to a state of diarrhea with frequent consumption.*
Regular Girl has a healthy satiety effect, slowing gastric transit time and increasing satiation hormones, resulting in a comfortably full and satiated feeling.*
Regular Girl is all natural and 100% Gluten Free (many so called gluten free fibers contain levels up to 20 ppm).
USDA Organic Certified, Non GMO Project Verified, Low FODMAP certified, Kosher and Vegan.
No dairy, soy, sugar, salt, wheat, eggs, artificial flavors or other potential allergens.
No taste, odor or grit. Mix with your favorite beverage or add to smoothies, cereals and more.
Are you a Healthcare Professional?
Feel the Difference
Not sure what product to use? Ask questions, compare benefits and find answers.