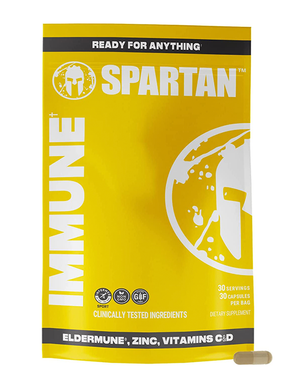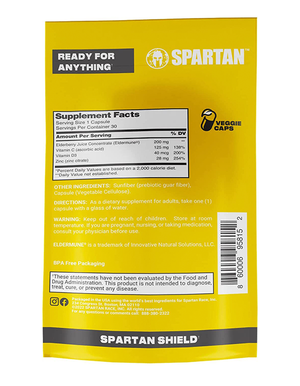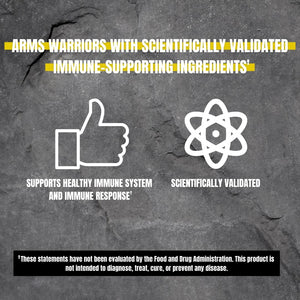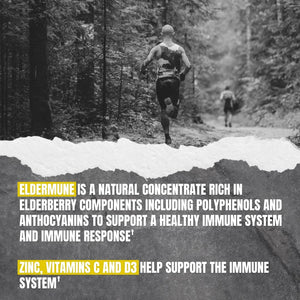 Spartan Immune Capsules
(60 Count)
Spartan Immune: Body Armor for The True Warrior | Scientifically Validated | Supports Healthy Immune System and Immune Response 
Eldermune is a natural concentrate rich in elderberry components including polyphenols and anthocyanins to support a healthy immune system and immune response.

Sunfiber is shown to support digestive health and feeds good gut bacteria without uncomfortable side effects.

Zinc, Vitamin C and D3, nutrients known to help support your immune system.
5.0 out of 5 stars Thanks for keeping my immunity up!
Reviewed in the United States on September 14, 2022
A few weeks into taking this product and I've been LOVING it so far! As someone who works around a lot of people, I always need to be sure my immunity is up. Not being sick = opportunity to train harder = better races! Thanks Spartan! 💪🏼
5.0 out of 5 stars Easy to use daily
Reviewed in the United States on June 21, 2022
I'm really enjoying the Spartan Immune capsules. They are easy to take and digest. I have had zero negative side effects from the capsules. I really like that the nutrition facts are easy to read and have clear ingredients that you know, unlike other supplements on the market. These are a great addition to any daily routine.
5.0 out of 5 stars Great product!
Reviewed in the United States on July 16, 2022
Super fast shipping I received it the next day after ordering. The pills are also small and easy to take! Exactly as described can't wait to try the spartan energy supplement!
5.0 out of 5 stars Great immune booster
Reviewed in the United States on July 13, 2022
This product is amazing. It tastes great, I feel great, it's awesome. I'm definitely buying more! Highly recommended
5.0 out of 5 stars No noticeable bad side effects
Reviewed in the United States on March 1, 2022
I've taken immune support supplements in the past that have made me nauseous. These guys must be using really good ingredients because I feel great! They are also priced really well, so I won't be switching products anytime soon.
5.0 out of 5 stars Great for after a tough race or just to boost your immune system
Reviewed in the United States on November 18, 2022
This stuff works amazing! I love to use it after a tough race or when I need an immunity boost.
5.0 out of 5 stars easy to swallow, and I like that it includes three supplements in one!
Reviewed in the United States on October 6, 2022
I took this when I was starting to get a cold, and definitely felt that it helped boost my immune system's response to fighting it. I also try to take one or two a day in general to help keep my immune system prepared for any sicknesses, infection, etc. - what is nice about this particular supplement is that it includes vitamins D, C, and zinc all in one - which I normally took all separately before.
*These statements have not been evaluated by the Food and Drug Administration. This product is not intended to diagnose, treat, cure or prevent any disease.
Are you a Healthcare Professional?
Feel the Difference
Not sure what product to use? Ask questions, compare benefits and find answers.