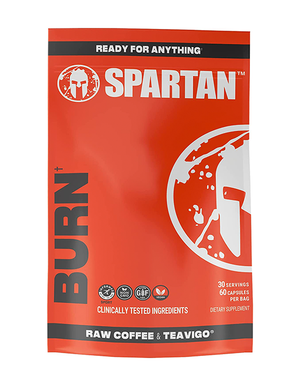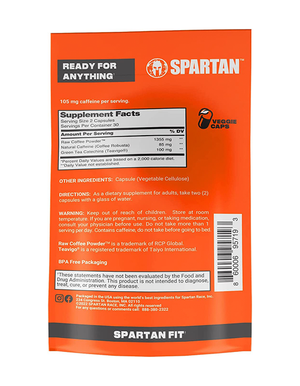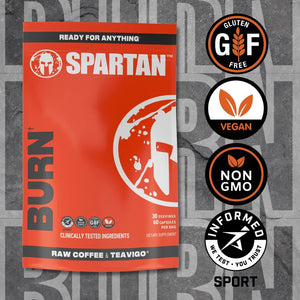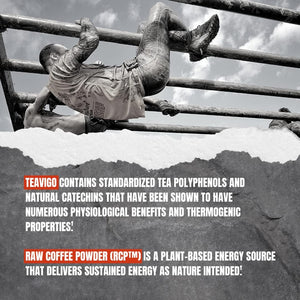 Spartan Burn Capsules
(60 capsules)
Spartan Burn harnesses powerful thermogenics to safely help athletes achieve body fat goals. This champion's formula features a proprietary blend of Teavigo , a pure source of the green tea catechin EGCg, which is clinically shown to burn visceral fat, and natural caffeine from Spartan Raw Coffee Powder (RCP).
5.0 out of 5 stars Spartan Burn gets me REVVED up!
Reviewed in the United States on February 5, 2023
These tabs are awesome. I like the natural ingredients – the pure green tea and raw coffee base. Burn has 105mg caffeine per serving, which is the equivalent of about 1.5 cups of coffee. For me and my body this is the perfect amount of caffeine to give me an extra boost before a workout or a run – not so much that I get any kind of jitters or side effects, but enough to give me that feeling of clean, sustained energy and power. Love this stuff!
5.0 out of 5 stars Awesome pill for sweating
Reviewed in the United States on August 29, 2022
I have a weak sweat glands and I have been using thermogenic pill to help me sweat. I like this pill because it doesn't give me jitters and no crash. If I don't work out enough after taking this pill, I spend about 30 minutes in the sauna. I have never been satisfied with my sweat! I recommend this pill to those who are looking for an extra push.
4.0 out of 5 stars Good product
Reviewed in the United States on August 6, 2022
I am used to feeling the burn with some sort of shakes and jitters. Not this. It makes you feel more alert without the shakes.
4.0 out of 5 stars easy to swallow
Reviewed in the United States on October 6, 2022
I usually only take 1 instead of 2 and have realized it is probably better to take after you wake up, rather than before you go to bed. I took it before bed before and I think it kept me awake because there is a fair amount of caffeine in it. After waking up though, no issues. I take one of these with one of the Spartan Immune capsules, a couple days a week.
5.0 out of 5 stars clean energy!
Reviewed in the United States on November 18, 2022
No shakes or jitters. I am extremely sensitive to caffeine and love this product. Gives me the extra boost of energy I need sometimes.
*These statements have not been evaluated by the Food and Drug Administration. This product is not intended to diagnose, treat, cure or prevent any disease.
Are you a Healthcare Professional?
Feel the Difference
Not sure what product to use? Ask questions, compare benefits and find answers.