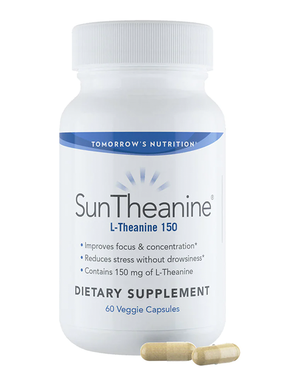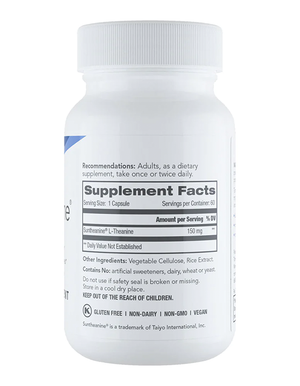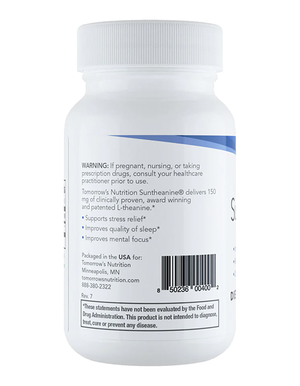 Suntheanine Veggie Capsules
Tomorrow's Nutrition Suntheanine Veggie Caps deliver 150 mg of clinically proven, award winning and patented L-theanine per capsule. Suntheanine has been shown to reduce stress while improving focus and concentration without drowsiness.* Tomorrow's Nutrition Suntheanine will also help prevent caffeine jitters and improve the quality of your sleep.* Suntheanine is an effective supplement, even diminishing the symptoms of PMS.* And the best part? This health supplement is gluten-free, non-GMO, non-dairy and vegetarian!

Very good product , feel
Review by jerry p. on 21 Nov 2022
Very good product , feel very calm after taking it and sleep like a baby
Would buy it again
Worth the extra expense
Review by Anthony M. on 21 Sep 2022
Have noticed positive effects including less jitter and more focus when paired with a caffiene supplement than with the caffeine alone. Suntheanine is somewhat more expensive than other theanine supplements, but the quality is second to none and I feel more confident putting this in my body.
High quality
Review by Stephen B. on 8 Sep 2022
The highest quality and the best price on the market.
Hoping to reverse insomnia and anxiety
Review by Renate P. on 6 Jul 2022
I have terrible insomnia and a level of anxiety that has increased as I've aged (82yrs. old). I have taken 2 caps. SunTheanine and Ashwagandha gummies 300 mg.each day for the last 2 weeks. Last night was the first night I slept and felt somewhat rested in the morning.
Great quality
Review by Michael D. on 1 Jun 2022
This stuff is great. Some of the L Theanine supplements on the market are subpar but this is the real deal. The sourcing is legit and the product works as it should. For those that haven't used L theanine before it's going to be a very subtle change you'll see. It's not going to magically make you more productive and focused, and knock out all your stress. Rather it's a more subtle effect in terms of stress. If you're using it to help with caffeine jitters however you will definitely notice the effects right away. Overall great product and glad to have found the brand. Will definitely continue to use
*These statements have not been evaluated by the Food and Drug Administration. This product is not intended to diagnose, treat, cure or prevent any disease.
Are you a Healthcare Professional?
Feel the Difference
Not sure what product to use? Ask questions, compare benefits and find answers.