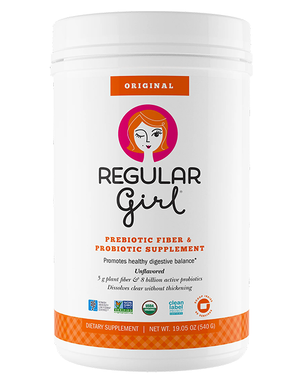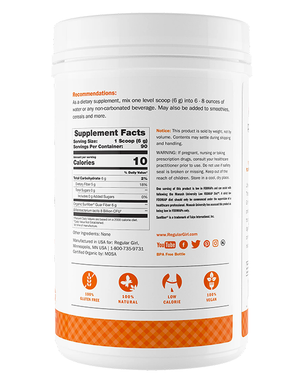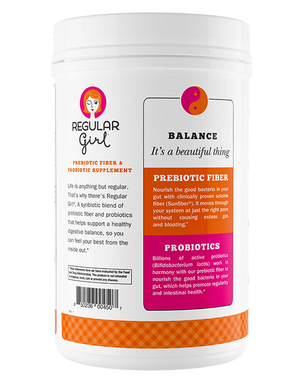 Regular Girl Original 90-day powder
 (90 servings)
Clinically proven prebiotic soluble fiber (Sunfiber) and probiotics (bifidobacterium lactis), created with the help of a woman dietitian. Regular Girl delivers true regularity, addressing both occasional constipation and diarrhea, without excess gas, cramping or bloating.*
Low FODMAP Certified, Glyphosate Residue Free Certified, Non GMO Project Verified, Organic Certified, Gluten Free, Vegetarian and Kosher.
Contains 90 servings of scoopable powder.
Love it!
Review by Renee H. on 13 Feb 2023
This stuff is great! I had so many issues finding a low-fodmap fiber & probiotic to take for SIBO/IBS related issues, but this is perfect for me! I put it in my (room-temp) coffee daily and add an afternoon scoop to a glass of water if needed, and it makes a world of difference - no bloating, gas, or anything, and it works.
Great product for a out of balance gut
Review by Laura R. on 9 Feb 2023
I had tried so many different options to get my gut functional after an antibiotic doss that knocked me out. After taking regular girl for a week things were going so much better. I am going to keep it going to keep my gut healthy.
Works wonders
Review by Shelly M. on 26 Jan 2023
Been taking this for years and it's kept me regular. Have tried other supplements but they did not work the same. Love the convenience of the packaging.
Great Little Product.
Review by Dominique B. on 26 Jan 2023
I like how easily these dissolve and blend into your beverage of choice. Makes trying to regulate your system easy! The packets are nice for an on the go morning. Personally, I'm not sure I have noticed a difference yet though.
Works like a charm.
Review by Marie T. on 2 Jan 2023
Works like a charm. I only use a half package a day since I am a small person. A full package creates way too much gas.
Are you a Healthcare Professional?
Feel the Difference
Not sure what product to use? Ask questions, compare benefits and find answers.