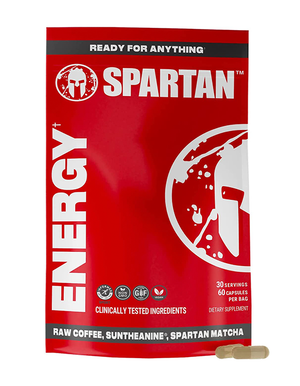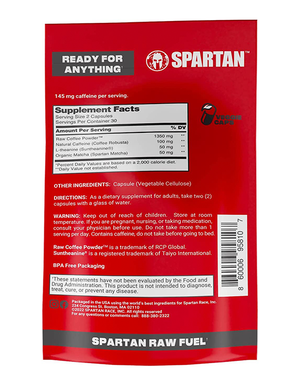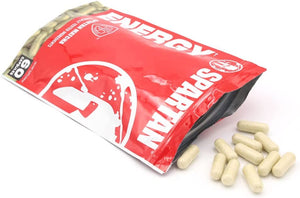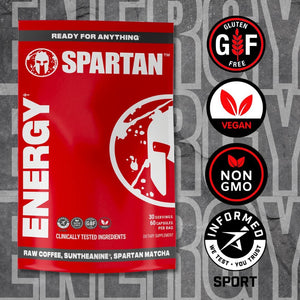 Spartan Race Energy Capsules
Spartan Energy contains a proprietary blend of natural caffeine from Raw Coffee Powder (RCP), Suntheanine and organic matcha green tea. Clean sustained endurance and plant-based energy without the typical spikes, jitters or crashes associated with other caffeine sources. Contains 145 mg of caffeine per serving and 72.5 mg per capsule.
Enhanced focus and alertness for a mental advantage. Naturally occurring antioxidants, vitamins, minerals, fiber and amino acids.
Spartan Energy is certified by Informed Choice to be free of substances prohibited in sport, demonstrating our commitment to quality and safety, and our abiding respect for Spartan athletes worldwide.
Adults take two capsules with water. Do not take more than two capsules per day. Keep out of reach of children. If you are pregnant, nursing or taking medication, consult your physician before use. Spartan Energy contains caffeine; do not take it before going to bed. Made in the USA. NON-GMO, Gluten Free, Vegan, Informed Choice Certified

5.0 out of 5 stars I can't believe it's not overstimulating
Reviewed in the United States 🇺🇸 on October 19, 2022
I can't believe it's not overstimulating… normally the amount of caffeine listed would have me running up the walls but this product for me is very calming and focusing and energy giving. I'm thankful that works for me. If you have trouble with certain supplements then there are so many things that may need to be checked in order for the item to work for you. It doesn't make much sense to blame the product. here is just a few ways a supplement may not work for you: your spine may be out of adjustment and or you may have a mental tension in your body that causes one or more systems to not work correctly, you can have an IGA allergy, or you can have an IgG allergy, or you can have an actual allergy to an allergic response such that even if you got the allergy cleared with a number of methods you may still have an allergy or a hypersensitivity to your reaction to that prior reaction. You can also have a Neuroemotional Complexes associated with the allergy or hypersensitivity. Working with an intuitive practitioner who knows how to do muscle testing, applied kinesiology, Radionics, something to ask your body why the supplement doesn't work for you or why it would work for you can often times be helpful. Or, learn to muscle test yourself, called Radionics in the UK. With the system you can ask your body if something is good for you or bad for you if it's going to cause a negative reaction or a positive reaction and so much more once you learn all the different ways to ask your body questions with this method.
5.0 out of 5 stars Love Spartan Energy!
Reviewed in the United States 🇺🇸 on January 8, 2023
Been using Spartan Energy for a long time and love it! It's that extra boost without jitters and no crash.
5.0 out of 5 stars Amazing superpill!!
Reviewed in the United States 🇺🇸 on July 9, 2022
I bought this product at my friend from the gym's recommendation, as I do not like drinking coffee or Redbull but want that e yea kick before a workout. I was worried it might give me a stomach ache or not really work - boy was I wrong!! These pills give me the exact kick I'm looking for but feel natural amd clean. I've Even taken them on tired/long days and they've gotten me through. Thank you Spartan! I'm a customer for life!!
3 people found this helpful
5.0 out of 5 stars Easy energy
Reviewed in the United States 🇺🇸 on August 21, 2022
Tried these at a race first and they worked to add that little bit of energy without bothering my stomach like coffee does or adding unwanted ingredients to my day. Easy to carry, no taste, an a resealable bag. I especially found them helpful to get that bit of energy needed in a long day or early start.
5.0 out of 5 stars Great Preworkout boost when looking for more sustained energy!
Reviewed in the United States 🇺🇸 on April 17, 2022
Ordered these to try the spartan nutrition tablets and pills line up.

These things have a decent amount of caffeine to give you a kick before a workout and a solid blend to make it more sustainable energy.

Loved these over other pres as I am not a fan of the hard hitting, skin itching, heart racing feeling. These had a steady ramp up and a more stable energy to them through my workout.
5.0 out of 5 stars Solid Boost, High Convenience
Reviewed in the United States 🇺🇸 on August 16, 2022
The boost I get from this energy-wise is great. It comes without the GI issues other energy-increasing supplements have at times and the fact I don't need to worry about mixing it with anything is very convenient.
5.0 out of 5 stars May guy loves them
Reviewed in the United States 🇺🇸 on September 26, 2022
He needed a boost before workouts and work, and they seem to work great
5.0 out of 5 stars The Kick I Needed
Reviewed in the United States 🇺🇸 on March 18, 2022
I don't drink coffee and I was looking for something to take before my early morning workouts. Since I am training for my first Spartan Race, I figured I'd give these a go. I like them. I just take two with water before I hit the gym and it gives me the boost I need in the morning, without feeling like I drank six energy drinks.
*These statements have not been evaluated by the Food and Drug Administration. This product is not intended to diagnose, treat, cure or prevent any disease.
Are you a Healthcare Professional?
Feel the Difference
Not sure what product to use? Ask questions, compare benefits and find answers.